PDF Pattern Crochet Oscaloosa Ottoman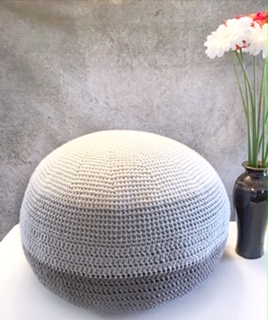 PDF Pattern Crochet Oscaloosa Ottoman
A large, puffy ottoman with a four-color gradient that is super simple to make.
Oscaloosa is a fun project using a large hook and worsted weight yarn held double. Pattern instructions are for a four-color gradient, but you can easily customize this pouf to be any color combination you wish, or simply use one color, the choice is yours.
My inspiration for this design is the simplicity of the culture in the area where my mother was born. She was born in Eastern Kentucky in a place called Oscaloosa, right in the heart of the Appalachian mountain range. It is a place where you can sit on the porch and prop your feet up while listening to a fiddle or banjo. Everything seems more simple and meaningful. People are friendlier and the nature is beautiful. You can lose yourself in relaxation while visiting the area.
This pouf-style ottoman is designed for rest and relaxation. Enjoy!